Cloud Manager
EInnovator Cloud Manager is a web user-interface and high-level devops tool for Kubernetes clusters. It support all features of core Kubernetes and adds some useful features of its own. A great alternative to Kubernetes Dashboard giving you the full power of kubectrl and beyond.
Cloud Manager simplifies application and service deployment, scaling, and configuration. Integrated CI/CD support allows to build and deploy applications in just a couple of clicks.
You can install solutions and docker images from multiple solution repositories. Manage multiple Kubertes clusters from a commmon interface. And much more. Integrated SSO authentication allows you to have full control of security and permissions.
Cloud Manager is available on EInnovator public Cloud, and can also be used on-premises. Community-edition with limited capacity is available for free. Commercial licenses with optional support can be purchased for larger deployments.
Deploy, scale, start, and stop services and applications with simple toolbar.
Organize deployments in (name)spaces and projects
Manage application routes/ingresses and HTTPS/SSL/TLS certificates
Build application from a Git Repository with one-click (based on Tekton).
Install solution and docker images from Helm and other types of repositories
Manage multiple clusters from within same integrated UI
Authenticate users with SSO Gateway
Access control fully integrated with Kubernetes role-based security model
Download certificates and config files to use with kubectl tool for advanced devops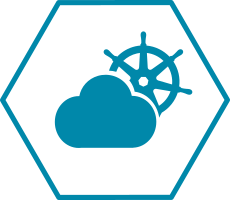 Documentation